We had the unique chance to talk to Danny Fisher about Games Knight's game Haven: Titan Command, now on Kickstarter!
How do you play Haven: Titan Command?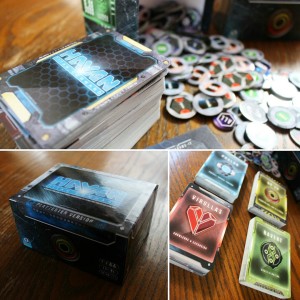 So the game is played between 2-4 players, where each player chooses a Titan to pilot. A deck represents equipment and field skills that each player will arm onto their Titan, and on their turn, will activate guns, shields, call in reinforcements or dodge attacks.
Each Titan represents on of the four factions who are fighting over the Haven Galaxy, and each has their own theme, style and mechanics.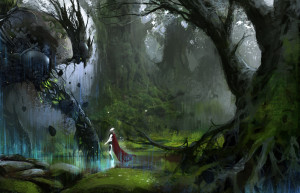 The Ravent are an ancient race of defenders who have been awoken as the war erupts, they play as a late game style deck as they grow and adapt to their surroundings. The Ravent start weak, but after a few turns their equipment becomes unrivaled. They also have one of the most unique cards that buries itself into your opponents deck and acts like a ticking time bomb.
The Phalon rely on their advanced technology to rule the battlefield. They hide behind powerful defensive cards and rely on combos of cards to win. They also use some of the most impactful manouevre cards, some capable of ignoring all incoming damage, the critical protocol of the Phalon Titan is also one of my favourites, it can be game winning.
The Virullas are controlled by a corrupt protocol, and act through autonomous commands. They have access to the widest range of equipment and with their efficiency play as a control deck. They have the ability to shut you down, with precision attacks and fuel stealing equipment, they are a complete nuisance.
The Go'Er are nomadic cast offs, drifting across the galaxy searching for new homes, their mechanics rely on scrapping cards and throwing caution to the wind, they are by far the most aggressive of decks, the Titan is also my favourite and capable of dealing huge damage with almost no resources.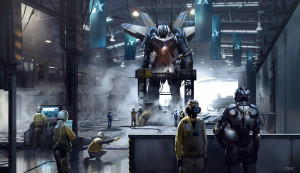 This game looks like it's taken a very long time to get to Kickstarter. It's gorgeous! Tell us the process of getting this game to the final look/gameplay?
Thanks! Its been a few years since we began, and this has given us the time to get everything right. We've found some fantastic artists who brought to life our designs, and we've expanded the lore of the galaxy so that players can become attached to their faction and characters. As for the gameplay we taken our game to Expo's and gaming groups who helped us to iron out any problems. We've been playing card games since we were teenagers and have used that experience to create something we enjoyed playing and something that felt exciting each time you played.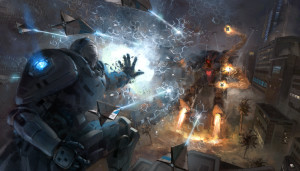 Where did your company get the inspiration for this game?
We've always been into mechas no matter what the platform, watching Gundam, Macross, Evangalion, games like Mechwarrior and Steel Battalion, and then recent films like Pacific Rim, we felt a card game that replicates mecha duels was missing.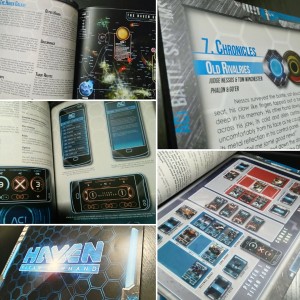 What are you doing with this game that sets it apart from the others?
We set out to create a new experience in a dueling style card game, where it wasn't just about summoning lots of creatures and random spells, so every action the player takes feels like a real movement taken by the Titan. If you fire a weapon, activate a shield, call in an airstrike or dodge an attack you feel like the pilot. At the end of the fight you have a story that's been told, and we've had some pretty crazy scenarios occur that really felt like a scene from a film.
We've also made a purpose built app that tracks your Titan's strength and fuel levels, immersing you into the game, it isn't required for play, but can help to remove some of the clutter of tokens as you play.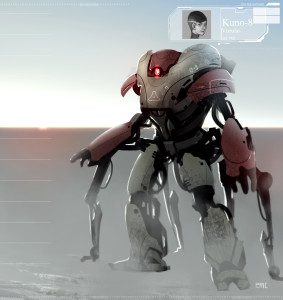 What would it mean to the company of this game were to fund?
It would mean everything, we've put so much into this game that we just want to see it on the shelves. We've learned a lot too and have so many more ideas, not just for Haven but for other games, success from this campaign would show us that we can do it and push us on.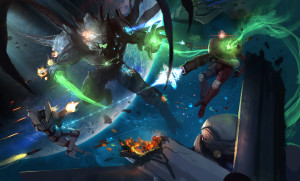 What are we looking at for pledge levels and stretch goals?
So we have kept this quiet simple, there is one pledge level to receive the Core Set, which has all the cards and tokens needed to play. If you want to have a hand in designing a card, there's one pledge level that lets you control the artwork and mechanics.
As for stretch goals, every stretch goal we hit will add the item(s) into each Core Set. We are hoping to add extra cards, playmats and dice.
£1 – A huge thank you from us, exclusive downloadable wallpaper and your name listed in the Founders of Haven section of the Operators Manual.
£29 – A copy of the core set which contains 190 cards, 100 tokens and the rules. All stretch goals unlocked will be added to this pledge.
£199 – Design an equipment card, you can direct the artwork, theme and mechanics of a brand new piece of equipment to be included in the Core Set.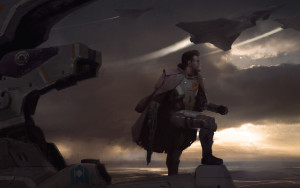 Thanks to Danny Fisher from Game Knight for talking with us about this beautiful game! We wanna see this funded, so let's help them out! Go to https://www.kickstarter.com/projects/gamesknight/haven-titan-command to fund this game and get your MF'n game on!
Thanks for reading!